April 20th, 2013
1ST PLACE WINNER IS "THAT ONE MOMENT" by Elizabeth Doran ,
2nd PLACE WINNER IS " A GIRL AND HER DOG" by Helen Fern
3rd PLACE WINNER is " STOLEN KISSES" by Cheri Abarca

I want to thank everyone who entered this contest and certainly CONGRATULATE THE WINNERS. "tHANK YOU, also..,." .... "VOTERS"... or there would be no winners to announce.
Having contests like this is one of the things about Fine Art America, which inspires all of us enjoy being creative...to connect with one another. It's a nice way to meet our 'neighbors.' "Thank you,"................ and "Howdie............... to all." ............ Gracia




April 8th, 2013
KOBUK ... WAS RED OLSON'S LEAD DOG.

KOBUK IS DEPICTED STANDING ON A PIECE OF THE ALASKA PIPELINE BECAUSE THE FIRST BARREL OF OIL WAS DELIVERED TO VALDEZ BY RED AND RANDY OLSON. KOBUK CAME IN 1ST BEFORE OIL BEGAN RUNNING THROUGH THE PIPELINE, SO HE STANDS TALL IN MAKING HISTORY IN THE FRONTIER STATE.
oF ALL THE FINE FOLKS I MET WHILE LIVING IN ALASKA FOR OVER 24 YEARS, THEY ARE TRUE ALASKANS AND WONDERFUL FRIENDS.
April 8th, 2013
RED OLSON AND HIS FRIENDSHIP HAS ENDURED FOR OVER 30 YEARS...AND STILL GOING STRONG. HIS PORTRAIT OF RED OLSON I CREATED IN HONOR OF THE TRIP HIM AND HIS 12 YEAR OLD SON, RANDY, MADE WHEN THEY TOOK THE FIRST BARREL OF OIL FROM PRUDHOE BAY TO VALDEZ BY DOG TEAM IN THE LATE 1970'S.
In 2005 I donated an acrylic painting of KOBUK their lead dog to the Valdez Museum, where it is on display.
Red has been an Alaskan gold miner for many years and did much to encourage me and my family to try our hand at Gold Mining in AK in the 1980's.
We will always be grateful for their guidance and friendship. Over the years, Red and Randy continue to be good friends.
April 1st, 2013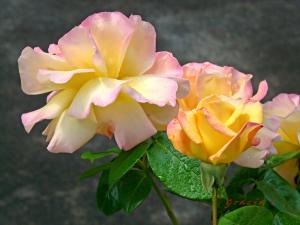 Paint the background of your canvasboard with a dark grey color. Then paint CRACKLE over the top and allow to dry and separate. WOW. Now paint a beautiful rose shape with several layers of Gesso, allowing each layer to dry before adding the next layer. Sand the flower shape, the stem, and leaves so they are very SOFT. Then paint them as you normally would. The soft texture of the rose and leaves next to the CRACKLE IS AWESOME!!! ENJOY THIS PAINTING EXERCISE AND SEE HOW CREATIVE YOU CAN BE.
April 1st, 2013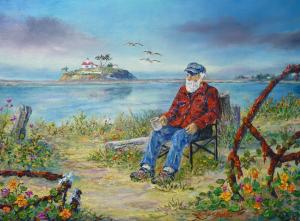 To love what I am doing, makes for a wonderful outcome. In COASTAL CHARACTER I am painting my favorite person, which is my husband. LOVE IS THE KEY Ingredient for a painting I wish to do. Our local lighthouse, Pelicans flying nearby, and the old crab pots seem to make great music together on canvas. As always, give my husband a cup of coffee and he is a happy camper...and a great 'Coastal Character.' Leave a comment and let me know what you think about my Coastal Character painting. Your comments will be much appreciated! Best regards to you and yours... Gracia
April 1st, 2013
EXCITEMENT... is the KEY WORD for DOING a PLEIN AIR PAINTING. I have to feel excited with anticipation and eagerly looking forward to immersing myself into my painting supplies. My excitement of being an artist shows up in my artwork." My art teachers used to say, "The proof is in the pudding." How do I feel about the piece when I have completed it? In my humble opinion, it seems as if there is more "life" in my work when I do plein air paintings. I see a kind of "energy" in that type of painting compared to studio still life's that I like a whole lot better. I '''feel''' better about my painting results when there is that type of "energy" in it, The result is...that I "loved what I was doing"...while I "was doing it." In my painting RED ROCK CROSSING I had that kind of experience.
Who cannot love spending time in a landscape scene such as this? I went back to the same scene two days in a row and then added refinement later, although 90 percent of the painting was done on location. It is what I love most about being an artist, plus...I enjoy meeting nice folks during my painting journey.
March 4th, 2013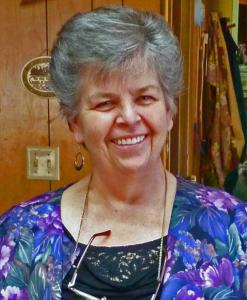 Having you visit my website to view my artwork is uplifting and encouraging to me. Most of the time I spend at my easel and at my table creating artwork is just me enjoying something I love to do. Much of my artwork has not been on display since the 1980's because my life has busy with family and spending wonderful time with my husband. Now I want to share my creativity with others and found this terrific website to showcase it. Please know I am fairly new to the computer world, so I ask your patience with me as I get used to it. Thanks so much for leaving a message letting me know what you think about my artwork. Such kindness inspires more creativity. Best regards to you and yours... Gracia